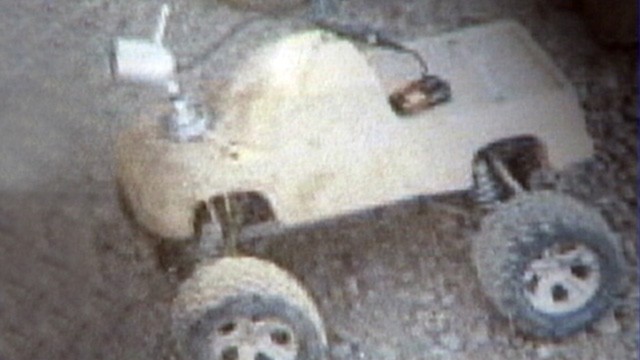 A Staff Sgt is in Afghanistan now after tours with the Army in Iraq. And he travels with a radio-controlled model truck his brother sent. The truck is not a toy. It just saved six soldiers' lives. The soldier's brother is a software engineer in Rochester, Minn. He rigged the remote control toy with a wireless video camera and shipped it to Iraq. The little truck is used by the troops to run ahead of them on patrols and look for roadside bombs. Last week, it paid off. The soldiers used it to check the road ahead when it got tangled in a trip wire connected to 500 lbs. of explosives. The bomb went off and the remote control truck was destroyed. The six soldiers controlling the truck from their Humvee didn't get hurt.
---
Heat kills by pushing the human body beyond its limits. In extreme heat and high humidity, evaporation is slowed and the body must work extra hard to maintain a normal temperature. Most heat disorders occur because the victim has been overexposed to heat or has over-exercised for his or her age and physical condition. Older adults, young children, and those who are sick or overweight are more likely to succumb to extreme heat. Conditions that can induce heat-related illnesses include stagnant atmospheric conditions and poor air quality. Consequently, people living in urban areas may be at greater risk from the effects of a prolonged heat wave than those living in rural areas. Also, asphalt and concrete store heat longer and gradually release heat at night, which can produce higher nighttime temperatures known as the "urban heat island effect." How can I protect myself from extreme heat? Extreme Heat: Know the Terms Heat Wave Prolonged period of excessive heat, often combined with excessive humidity. Heat Index A number in degrees Fahrenheit (F) that tells how hot it feels when relative humidity is added to the air temperature. Exposure to full sunshine can increase the heat index by 15 degrees. Heat Cramps Muscular pains and spasms due to heavy exertion. Although heat cramps are the least severe, they are often the first signal that the body is having trouble with the heat. Heat Exhaustion Typically occurs when people exercise heavily or work in a hot, humid place where body fluids are lost through heavy sweating. Blood flow to the skin increases, causing blood flow to decrease to the vital organs. This results in a form of mild shock. If not treated, the victim's condition will worsen. Body temperature will keep rising and the victim may suffer heat stroke. Heat Stroke A life-threatening condition. The victim's temperature control system, which produces sweating to cool the body, stops working. The body temperature can rise so high that brain damage and death may result if the body is not cooled quickly. Sun Stroke Another term for heat stroke. Before Extreme Heat To prepare for extreme heat, you should:
Install window air conditioners snugly; insulate if necessary.
Check air-conditioning ducts for proper insulation.
Install temporary window reflectors (for use between windows and drapes), such as aluminum foil-covered cardboard, to reflect heat back outside.
Weather-strip doors and sills to keep cool air in.
Cover windows that receive morning or afternoon sun with drapes, shades, awnings, or louvers. (Outdoor awnings or louvers can reduce the heat that enters a home by up to 80 percent.)
Keep storm windows up all year.
During a Heat Emergency What you should do if the weather is extremely hot:
Stay indoors as much as possible and limit exposure to the sun.
Stay on the lowest floor out of the sunshine if air conditioning is not available.
Consider spending the warmest part of the day in public buildings such as libraries, schools, movie theaters, shopping malls, and other community facilities. Circulating air can cool the body by increasing the perspiration rate of evaporation.
Eat well-balanced, light, and regular meals. Avoid using salt tablets unless directed to do so by a physician.
Drink plenty of water. Persons who have epilepsy or heart, kidney, or liver disease; are on fluid-restricted diets; or have a problem with fluid retention should consult a doctor before increasing liquid intake.
Limit intake of alcoholic beverages.
Dress in loose-fitting, lightweight, and light-colored clothes that cover as much skin as possible.
Protect face and head by wearing a wide-brimmed hat.
Check on family, friends, and neighbors who do not have air conditioning and who spend much of their time alone.
Never leave children or pets alone in closed vehicles.
Avoid strenuous work during the warmest part of the day. Use a buddy system when working in extreme heat, and take frequent breaks.
Additional Information An emergency water shortage can be caused by prolonged drought, poor water supply management, or contamination of a surface water supply source or aquifer. Drought can affect vast territorial regions and large population numbers. Drought also creates environmental conditions that increase the risk of other hazards such as fire, flash flood, and possible landslides and debris flow. Conserving water means more water available for critical needs for everyone. Appendix A contains detailed suggestions for conserving water both indoors and outdoors. Make these practices a part of your daily life and help preserve this essential resource. First Aid for Heat-Induced Illnesses Extreme heat brings with it the possibility of heat-induced illnesses. The following table lists these illnesses, their symptoms, and the first aid treatment.
| Condition | Symptoms | First Aid |
| --- | --- | --- |
| Sunburn | Skin redness and pain, possible swelling, blisters, fever, headaches | Take a shower using soap to remove oils that may block pores, preventing the body from cooling naturally. Apply dry, sterile dressings to any blisters, and get medical attention. |
| Heat Cramps | Painful spasms, usually in leg and abdominal muscles; heavy sweating | Get the victim to a cooler location. Lightly stretch and gently massage affected muscles to relieve spasms. Give sips of up to a half glass of cool water every 15 minutes. (Do not give liquids with caffeine or alcohol.) Discontinue liquids, if victim is nauseated. |
| Heat Exhaustion | Heavy sweating but skin may be cool, pale, or flushed. Weak pulse. Normal body temperature is possible, but temperature will likely rise. Fainting or dizziness, nausea, vomiting, exhaustion, and headaches are possible. | Get victim to lie down in a cool place. Loosen or remove clothing. Apply cool, wet clothes. Fan or move victim to air-conditioned place. Give sips of water if victim is conscious. Be sure water is consumed slowly. Give half glass of cool water every 15 minutes. Discontinue water if victim is nauseated. Seek immediate medical attention if vomiting occurs. |
| Heat Stroke ( a severe medical emergency) | High body temperature (105+); hot, red, dry skin; rapid, weak pulse; and rapid shallow breathing. Victim will probably not sweat unless victim was sweating from recent strenuous activity. Possible unconsciousness. | Call 9-1-1 or emergency medical services, or get the victim to a hospital immediately. Delay can be fatal. Move victim to a cooler environment. Removing clothing Try a cool bath, sponging, or wet sheet to reduce body temperature. Watch for breathing problems. Use extreme caution. Use fans and air conditioners. |
---
he estimated death toll from Japan's disasters has climbed past 10,000 yesterday. The prime minister said it was the nation's worst crisis since World War II. Nuclear plant operators were working to try to keep temperatures down in several reactors affected by the earthquake and tsunami. (Workers were dumping sea water into two reactors to avoid meltdowns.) Rescuers pulled bodies from mud-covered jumbles of wrecked houses, shattered tree trunks, twisted cars and tangled power lines. One rare bit of good news was the rescue of a 60-year-old man swept away by the tsunami who clung to the roof of his house for two days until a military vessel spotted him waving a red cloth about 10 miles offshore.
Click here to see before and after photos taken by Google
---
Staying Army strong: Littlest Soldier, Brennan Daigle, receives biggest wish
by Rachel Reischling
03.04.11 - 10:37 am
On Saturday, Feb. 26, a 9-year-old boy arrived with his father to the Chateau du Bon Reve — which translates, from French, to the Castle of Good Dreams — a reception hall in Sulphur built to resemble a medieval castle. The boy, Brennan Daigle, often went fishing at the hall with his father — there is a pond surrounding the castle stocked with fish, and this fishing trip was a precursor to his 10th birthday party — but this day would be different. Brennan caught no fish; instead, awaiting him were more than 40 Fort Polk Soldiers in full formation and standing at attention. No company commander called them to attention, nor was the National Anthem being played. The 40 members of Fort Polk's Headquarters and Headquarters Company, 1st Maneuver Enhancement Brigade and members of the Louisiana National Guard stood at attention for Brennan Daigle. Brennan was diagnosed in October 2009 with embryonal rhabdomyosarcoma, a rare form of cancer in which muscular tumors attach themselves to bone. The healthy young boy of 8, spindly and growing, began to lose weight and grow pale as the chemotherapy treatments he underwent took their toll. By October 2010, the tumor had grown in size and mutated. On Feb. 10 of this year, Brennan's doctor gave his mother and Brennan the worst news of their lives: There was nothing more they could do for him. "The doctor told him they'd done everything they could and that he probably had two weeks left to live. So she sent him home to be with us," his mother said. There would be no more needles. After the doctor left the room, Brennan and his mother were left to absorb the news; Brennan's mother had to come to terms suddenly with the fact that she would lose her only son and there was nothing in her power that could save him. The power to save, or accept, would have to come from beyond: From the family's faith. "I know that with faith in God I'll be OK," he said. "I think God will lead me." Still, Brennan does not want to die. After hearing the news that he was being sent home to spend his last days with his parents and sister, he said so to his mother. "I won't see you every day," Brennan said to his mother. "Oh, Brennan," she answered, "you'll be able to walk hand in hand with your grandma who's already in heaven, and you'll see us again." Even with his intense faith, Brennan is a typical 10-year-old; he enjoys fishing, having sleepovers with his best friend, Kaleb, and playing video games, many of which glorify combat and victory. Brennan also loves all things Army. As his mother planned a cancer society fund-raiser event, Brennan suggested a G.I. Joe theme. The image of a strong and healthy man battling his enemies connected with Brennan, who was fighting his own battle. Days later, Brennan and his family learned that his tumor was still growing. To keep all of his family and friends apprised of his condition, his mother created a Facebook page, called, aptly, "Brennan's Brigade," with pictures and hundreds of comments from people around the world — including Soldiers who have written comments of encouragement. "Many of these Soldiers write things like, 'we're over here fighting for our country while you're at home fighting for your life,'" said Daigle. "We even got a picture of Soldiers surrounding a HMMWV in Afghanistan, holding an American flag, who gave him the message 'We're flying this flag in honor of you; we're here to back you. Stay Army strong.'" From the "Brennan's Brigade" page, Brennan began developing bonds with some of the Soldiers in Iraq and Afghanistan. He met one of the Soldiers who came home from overseas; that Soldier gave Brennan the X Box game "Call of Duty: Black Ops." The Soldier, Adam Langley, often plays the game with Brennan online. "It's Brennan's favorite game," his mother said. He could not have guessed that for his 10th birthday, like an image from the game he loves, he would be surrounded by a formation of Soldiers or that he would ride in a camouflaged HMMWV. Instead, this past Saturday, Feb. 26, as Brennan dreamed of reeling in a fish or three, he stepped out of his father's truck to the sight of the 1st MEB Soldiers, all standing at attention in front of a National Guard HMMWV. Brennan stood still, wide-eyed, uncomprehending. Then everyone — about 400 people — shouted "Happy Birthday, Brennan!" in unison and the entire crowd broke out in applause. "When he realized it was a surprise, and for him, he couldn't say anything. All he could do was giggle. He was speechless," said his mother. A simpler party had been planned for Brennan, who had asked for an Army-themed birthday celebration. "He was under the impression that there would be a little birthday party this coming weekend," said his mother. "He had no idea about the castle, and we (her husband and daughter) had no idea that the Army would send Soldiers to fulfill Brennan's wish," — the wish to meet Soldiers before his illness worsens. That wish was facilitated by Becky Prejean, executive director of "Dreams Come True of Louisiana." Prejean heard through word of mouth about Brennan and contacted his mother. "Kristy said he had two days to two weeks to live and asked if we did parties. He wanted an Army-themed party, so I contacted Katey Husband, Fort Polk community member and mother of a 'Dreams Come True' child, who contacted Tresa Lawson, Fort Polk's Community Relations Officer." Lawson asked for five to six Soldier volunteers; 40 answered the call. "Words can never express what I felt seeing all those Soldiers there, knowing some of them had just come back from Iraq and still took time out for just one little boy," said Kristy Daigle. "Just to know that they care enough to give their all, to give their love and support to a little boy is phenomenal. It says so much about our men and women who serve our country in the armed forces." As Brennan recovered from his initial surprise, Soldiers invited him to examine the HMMWV; he climbed in the driver's seat and took the wheel, smiling widely. Then, Soldiers took Brennan and his best friend Kaleb for a ride in the HMMWV. Afterwards, Brennan and Kaleb stood out from the hatch at the top of the vehicle, posing as hundreds of cameras flashed. After the HMMWV ride, Brennan walked to the front of the formation and each Soldier shook his hand. He was inducted as an honorary member of the Army, given a coin symbolizing merit and achievement of excellence and presented with passels of presents ranging from a military jacket with his first name embroidered on the pocket, an Army hat, his own personalized dog tags and a rucksack. Brennan stood still, accepting the gifts quietly but with a smile. "I'm a little shy," Brennan said later. One of the dog tags presented to Brennan was inscribed with the seven Army values: Loyalty, duty, respect, selfless service, honor, integrity and personal service. "Brennan, you exemplify what personal courage means," said Pfc. Kamesha Starkey, 1st MEB. Chris Duncan, the mayor of Sulphur, honored Brennan with a key to the city and the title of Honorary Mayor of the Day; afterwards, Soldiers mingled for a while, talking with Brennan and his friends and family. Some hugged Brennan, some simply stood and watched in groups as Brennan explored his gifts. Many of the Soldiers — even seasoned ones who have seen battle — were at a loss for words as they observed Brennan's quiet grace. "This event is a profound one. A lot of us just wanted to be there for him, show him we support him totally," said Sgt. Joe M. Battle, 1st MEB public affairs. "But I can't say it wasn't hard emotionally." Pfc. Kyle Frederick added, "It was good to be able to give back. It opened my eyes to a lot of things: How I take my kids for granted, how lucky we are, how we complain on a day-to-day basis and we really have it good compared to others." A reception was held in the castle, with barbecue and a three-tiered birthday cake. The cake was decorated with an Army emblem. Brennan made the ceremonial first cut, and picked the prime piece for himself: The piece with the emblem. After people ate, chatted and gave Brennan more hugs than most people receive in a lifetime, he sat down to open the dozens of birthday presents guests had brought for him. Like every younger sibling, as he pulled out tissue paper from gift bags, he handed all the bits and scraps to his older sister Lauren, 11. The next day, on the way to school — Brennan still attends third grade every day — he asked his mother "Am I really in the Army?" "You most certainly are," she said. "They don't just swear in anyone!" "That's awesome," he said.
---
Two things very close to my heart: our soldiers, and good dogs...please give this a read and tell me what you think. -CJDW By Ian Drury
L/Cpl Tasker was the 358th serviceman killed in the conflict while his dog Theo was the sixth British military hound to die in action in Iraq and Afghanistan
In life, they were united in their tireless work saving countless British soldiers in Afghanistan. In death, they were united in tragedy. Shortly after Lance Corporal Liam Tasker was killed in a firefight with the Taliban, his devoted Army search dog Theo suffered a seizure and passed away too.
Tragic loss: Liam Tasker was on patrol with his dog Theo at the time of the attack in Nahr-e-Saraj, Afghanistan

The pair had uncovered 14 home-made bombs and hoards of weapons in just five months – a record for a dog and his handler in the conflict. L/Cpl Tasker, 26, this week became the 358th British serviceman to die in the ten-year conflict. Only last month he described his joy at the close bond he had developed with Theo, a 22-month-old springer spaniel cross. 'I love my job and working together with Theo. He has a great character and never tires,' he said in an interview on the Ministry of Defence website. 'He can't wait to get out and do his job and will stop at nothing.'
Dog handler: Liam was a member of the Royal Army Veterinary Corps. Theo also died after the attack

In a statement, his family said: 'There are three words that best describe Liam: larger than life. He lit up every room he walked into with his cheeky smile. 'He died a hero doing a job he was immensely passionate about. We are so proud of him and everything he's achieved. Words can't describe how sorely he will be missed.' Miss Walters added: 'LT never met anyone without touching their lives in some way. I am the proudest girlfriend there could ever be and there will be an LT-sized hole in my life forever. Sleep well, my darling, my soulmate, my best friend.' Lieutenant Colonel David Thorpe, commanding officer 1st Military Working Dog Regiment, also paid tribute to L/Cpl Tasker, saying: 'He genuinely loved the dogs he worked with and was always able to get the best out of them. 'Epitomising the hard-working, determined and ambitious nature of our very best soldiers, he wanted to go to Afghanistan. He wanted to ply his trade in the harshest of environments, to be outside of his comfort zone and he wanted to be successful. He was. 'The work he did in his five months in Afghanistan saved countless lives, of that I have no doubt.' L/Cpl Tasker joined the Army in 2001 as a vehicle mechanic in the Royal Electrical and Mechanical Engineers. But his passion for animals led to a transfer to the Royal Army Veterinary Corps in 2007. He only learned about the dog unit when a friend showed him videos of them in action. He spent 15 weeks on a handlers' course with Theo, where they learned to work as a team and developed their bond. Once in Afghanistan, Theo was so successful at detecting explosives that his tour of duty was due to be extended by a month. Major Caroline Emmett, Officer Commanding 104 Military Working Dog Squadron, said: 'L/Cpl Tasker was one of the best people I have ever known. Kind, with a good heart, he always put others before himself. He and his dog Theo were made for each other.' Defence Secretary Liam Fox said he was 'deeply saddened' by the news. 'It is clear that L/Cpl Tasker was a dedicated and highly capable soldier whose skills in handling dogs were second to none,' he said. 'He and his dog Theo had saved many lives and we will be eternally grateful for this.'
---
You be the judge...check out these alleged 'date night' pics here: http://taylorswift.com.br/galeria/thumbnails.php?album=1286
---
It's true, cut the worry out of your life, and you'll quickly find that it's indeed much more enjoyable.  Take the following 9 out of your mind now, and watch the affect! 1. Drink eight glasses of water a day The Truth: Water's great, but you can also drink juice, tea, milk, fruits, and vegetables. Even coffee quenches thirst. The caffeine makes you lose some liquid, but you're still getting plenty. 2. Stress will turn your hair gray The Truth: Too much stress does age us inside and out. But there hasn't been any scientific evidence that a bad day turns your hair silver. 3. Reading in poor light ruins your eyes The Truth: Reading in dim light can strain your eyes. You squint and that can give you a headache. But you won't do any permanent damage except maybe cause crow's-feet. A good night's rest will help your eyes recover just fine. 4. Coffee's really bad for you The Truth: Too much cam give you the jitters, but it has a lot of positives. Coffee has antioxidants and gives your brain a boost, too. Coffee also doesn't have any effect on heart disease. 5. Feed a cold, starve a fever The Truth: Colds and fevers are caused by viruses that last seven to 10 days, no matter what you do. And there is no evidence that diet has any effect on a cold or fever. Even if you don't feel like eating, you still need fluids, so put a priority on those. If you're congested, the fluids will keep mucus thinner and help loosen chest and nasal congestion. 6. Fresh is always better than frozen The Truth: Frozen can be just as good as fresh because the fruits and vegetables are harvested at the peak of their nutritional content, taken to a plant and frozen on the spot. Unless it's picked and sold the same day, produce at farmers' markets could lose nutrients because of heat, air, and water. 7. Eggs raise your cholesterol The Truth: Newer studies have found that saturated and trans fats in a person's diet, not dietary cholesterol, are more likely to raise heart disease risk. 8. Get cold, and you'll catch a cold The Truth: Mom was wrong. Chilling doesn't hurt your immunity unless you're so cold that your body defenses are destroyed and that only happens during hypothermia. And you can't get a cold unless you're exposed to a virus that causes a cold. The reason people get more colds in the winter isn't because of the temperature, but as a result of being cooped up in closed spaces and exposed to cold viruses. 9. Your lipstick could make you sick The Truth: The reality is that lead is in almost everything. It's all around us. But the risk from lead in lipstick is really small. In fact, lead poisoning is most commonly caused by other factors like pipes and paint in older homes.
---
Remember Deep Blue in 1997, beating the world's best chess player? Well, if we haven't been schooled enough already by computers, here's IBM's latest invention:
---
OK, I'm a music fan...any type (except rap...just sayin').  I grew up playing music in bands and ensembles, then of course now playing the radio, music is in my soul.  With that said, I wanna introduce to you Sunny Choi, playing some of country's biggest hits:

And...last but not least, the Hillbilly Bone:
---
It most certainly has been the best year ever at 93.1 The Wolf.  We got to see some really awesome concerts, meet tons of new artists, help out some amazing folks, and played some stellar country music.  If you missed the countdown show over the New Years holiday, I'd like to share with you the official rundown of the top 93 songs played in 2010 on 93.1 The Wolf!
| | | |
| --- | --- | --- |
| 93 | TURNER, JOSH | All Over Me |
| 92 | NICHOLS, JOE | The Shape I'm In |
| 91 | PALTROW, GWYNETH | Country Strong |
| 90 | STRAIT, GEORGE | Twang |
| 89 | WESLEY, JAMES | Jackson Hole |
| 88 | SWIFT, TAYLOR | Fifteen |
| 87 | NIEMANN, JERROD | What Do You Want |
| 86 | URBAN, KEITH | Put You In A Song |
| 85 | BRAND, ADAM | Ready For Love |
| 84 | RUCKER, DARIUS | History In The Making |
| 83 | MONTGOMERY GENTRY | While You're Still Young |
| 82 | PAISLEY, BRAD | Welcome To The Future |
| 81 | MCGRAW, TIM | Felt Good On My Lips |
| 80 | BRYAN, LUKE | Someone Else Calling You Baby |
| 79 | LAMBERT, MIRANDA | Only Prettier |
| 78 | CHESNEY, KENNY | Somewhere With You |
| 77 | CURRINGTON, BILLY | Let Me Down Easy |
| 76 | BENTLEY, DIERKS | Up On The Ridge |
| 75 | KEITH, TOBY | Trailerhood |
| 74 | STRAIT, GEORGE | The Breath You Take |
| 73 | HOUSER, RANDY | Whistlin' Dixie |
| 72 | TURNER, JOSH | Why Don't We Just Dance |
| 71 | JACKSON, ALAN | It's Just That Way |
| 70 | SWIFT, TAYLOR | Mine |
| 69 | KEITH, TOBY | Every Dog Has Its Day |
| 68 | SWEENEY, SUNNY | From A Table Away |
| 67 | CHURCH, ERIC | Smoke A Little Smoke |
| 66 | WILSON, GRETCHEN | Work Hard, Play Harder |
| 65 | THE BAND PERRY | Hip To My Heart |
| 64 | JACKSON, ALAN | Hard Hat And A Hammer |
| 63 | UNDERWOOD, CARRIE | Mama's Song |
| 62 | THOMPSON, JOSH | Beer On The Table |
| 61 | CAMPBELL, CRAIG | Family Man |
| 60 | KEITH, TOBY | Cryin' For Me (Wayman's Song) |
| 59 | RASCAL FLATTS | Why Wait |
| 58 | LAMBERT, MIRANDA | White Liar |
| 57 | URBAN, KEITH | I'm In |
| 56 | PICKLER, KELLIE | Makin' Me Fall In Love Again |
| 55 | LADY ANTEBELLUM | Our Kind Of Love |
| 54 | PAISLEY, BRAD | American Saturday Night |
| 53 | JANEDEAR GIRLS | Wildflower |
| 52 | YOUNG, CHRIS | Voices |
| 51 | ALDEAN, JASON | My Kinda Party |
| 50 | SHELTON, BLAKE | All About Tonight |
| 49 | URBAN, KEITH | Til Summer Comes Around |
| 48 | KEITH, TOBY | She Never Cried In Front Of Me |
| 47 | ZAC BROWN BAND/A. JACKSON | As She's Walking Away |
| 46 | ALDEAN, JASON | The Truth |
| 45 | MCBRIDE, MARTINA | Wrong Baby Wrong |
| 44 | PAISLEY, BRAD | Water |
| 43 | REBA | I Keep On Loving You |
| 42 | CORBIN, EASTON | Little More Country Than That |
| 41 | SWIFT, TAYLOR | Fearless |
| 40 | MOORE, JUSTIN | How I Got To Be This Way |
| 39 | ADKINS, TRACE | This Ain't No Love Song |
| 38 | WALKER, CLAY | She Won't Be Lonely Long |
| 37 | RUCKER, DARIUS | Come Back Song |
| 36 | STRAIT, GEORGE | I Gotta Get To You |
| 35 | CURRINGTON, BILLY | Pretty Good At Drinkin' Beer |
| 34 | REBA | Turn On The Radio |
| 33 | THOMPSON, JOSH | Way Out Here |
| 32 | SUGARLAND | Stuck Like Glue |
| 31 | LADY ANTEBELLUM | Need You Now |
| 30 | UNDERWOOD, CARRIE | Cowboy Casanova |
| 29 | MOORE, JUSTIN | Backwoods |
| 28 | CURRINGTON, BILLY | That's How Country Boys Roll |
| 27 | BRYAN, LUKE | Do I |
| 26 | BRYAN, LUKE | Rain Is A Good Thing |
| 25 | CHESNEY, KENNY | The Boys Of Fall |
| 24 | CHESNEY, KENNY | Ain't Back Yet |
| 23 | UNCLE KRACKER | Smile |
| 22 | UNDERWOOD, CARRIE | Temporary Home |
| 21 | CORBIN, EASTON | Roll With It |
| 20 | ATKINS, RODNEY | Farmer's Daughter |
| 19 | LAMBERT, MIRANDA | The House That Built Me |
| 18 | MORGAN, CRAIG | This Ain't Nothin' |
| 17 | RASCAL FLATTS | Unstoppable |
| 16 | BROWN, ZAC, BAND | Free |
| 15 | BROWN, ZAC, BAND | Highway 20 Ride |
| 14 | MOORE, JUSTIN | Small Town USA |
| 13 | THE BAND PERRY | If I Die Young |
| 12 | PAISLEY, BRAD | Anything Like Me |
| 11 | LADY ANTEBELLUM | American Honey |
| 10 | UNDERWOOD, CARRIE | Undo It |
| 9 | ALDEAN, JASON | Crazy Town |
| 8 | ALDEAN, JASON/KELLY CLARKSON | Don't You Wanna Stay |
| 7 | STEEL MAGNOLIA | Keep On Lovin' You |
| 6 | SHELTON, BLAKE | Hillbilly Bone w/Trace Adkins |
| 5 | LITTLE BIG TOWN | Little White Church |
| 4 | NIEMANN, JERROD | Lover, Lover |
| 3 | BRICE, LEE | Love Like Crazy |
| 2 | YOUNG, CHRIS | The Man I Want To Be |
| 1 | NICHOLS, JOE | Gimmie That Girl |
---